Search Engine Optimisation
Why have a website, if people can't find it? We can help you gain traffic and sales.
It's all about search engine ranking...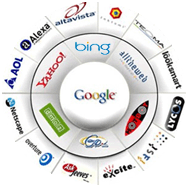 If you're looking to get new customers through the internet, and hoping to bring targeted traffic to your website at the most economical spend, search engine optimisation is your answer..
SEO is the process of improving the volume or quality of traffic to a web site or a web page from search engines via "natural" or un-paid search results as opposed to other forms of search engine marketing (SEM) which may deal with paid inclusion. The theory is that the earlier (or higher) a site appears in the search results list, the more visitors it will receive from the search engine. SEO may target different kinds of search, including image search, local search, video search and industry-specific vertical search engines. This gives a web site web presence.
Search Engine Optimisation (SEO) is the process of optimising your website to achieve high natural listings within Google, Bing (Windows Live), Yahoo and other great search engines.
Unlike pay-per-click advertising, clicks on natural listings don't cost anything – so they usually deliver a higher return on investment (ROI) than paid search advertising.
We always follow guidelines
Google, Yahoo and Windows Live all have strict guidelines for website optimisation. So we always make sure we follow the rules – to optimise your ranking without running the risk of having your site banned.
Beautiful, high ranking websites
We are very proud of the fact that each of our websites, which all have great natural rankings, are consistently built with a keen eye on both design and usability – because there's no point in generating traffic if you can't convert it into business.
Honest advice
We're happy to give you an honest appraisal of your website's ability to rank for the keywords that are relevant to your business. If your website isn't up to the job then we'll provide you with a quotation for the development work required to make sure it is. For more information about our web design services click here.
Our Services
Wpc Services offers an ethical SEO solution (also known as "white hat" SEO) to naturally promote your website to the highest possible position without breaking Google's Webmaster Guidelines.
Our search engine optimisation service includes:
Complete "on-page" optimisation – we make sure all the code on your website is perfect for search engine indexing.
Click-to-conversion optimisation – we will analyse your website's click-to-conversion path and make sure the extra clicks we generate actually convert to leads.
Link building – we will build numerous inbound links to your website – an important factor in establishing your website as an online authority in your specialist field.
Full ROI reporting – detailed performance reporting will accurately track the amount of business your extra clicks have delivered.
Keyword position reporting – comprehensive monthly reports with detailed positional information for each keyword – demonstrates how your website is performing for the keywords that are important to your business.
Online press release submission – your company press releases can be distributed online by our SEO experts to ensure they generate links back to your website.
Personal service, not computer automated
Our SEO service is managed by SEO experts, not computers. You'll receive a complete ROI analysis for all SEO activity we carry out – so you can accurately assess the success of our work and the value of your investment. Monthly performance reports and search engine position reports are provided as standard.
Long term success requires a long term process
High natural positions in search engines are not achieved overnight so we currently carry out SEO campaigns for a minimum of six months. SEO companies offering shorter-term solutions are rarely able to do the job properly – so beware, and make sure you're getting good value for money!